UI/UX: Tiger Woods PGA Tour 10
Client: EA Sports, Xbox 360/PS3
EA brought me in as a contractor Tiger Woods PGA Tour 10 to create new icons and update old icons to match the new year's style guide. In addition to this, the UI style added a top down map view of every hole on every course in the game for the first time. My responsibilities included going into the game using the beauty camera, looking at each hole and drawing an icon of the hole. 
Since Tiger 10 was the first game I had worked on, not only did I learn the proprietary game engine but I also had to learn multiple skills on the fly such as working within scrum methodology and committing work sprints, Perforance and version control, and the EA Tiburon pipeline. At the time, EA's UI pipeline also used Adobe Flash, Actionscript, and Flash Develop. 
🎮  Release Date:

6.8.2009
🎮  Metacritic score:

81/100
The majority of the time I spent on the Tiger 10 team was creating top-down hole art for all 18 holes of all 12 PGA courses in the game. To accommodate the various sizes the game used for each hole, I drew them in Adobe Illustrator and converted them to raster for in game use in Adobe Photoshop. I drew where there was trees or foliage around the fairway, the fairway was striped, water and sand traps were put in the appropriate place, and the green was denoted. I even included the cart path to make each icon as real world accurate as possible.
When I wasn't creating hole art, I was utilizing the dev-side beauty camera to take beauty shots of the most iconic parts of each PGA course, these were used in the broadcast graphic windows in course specific screens and featured in all of the loading screens. 
The Tiger Woods game used icons for the in-game Pro Shop to outfit your golfer, as well as to symbolize all the various game modes when the hole art and beauty shots were completed, I assisted in creating and skinning into the game any icons that were left.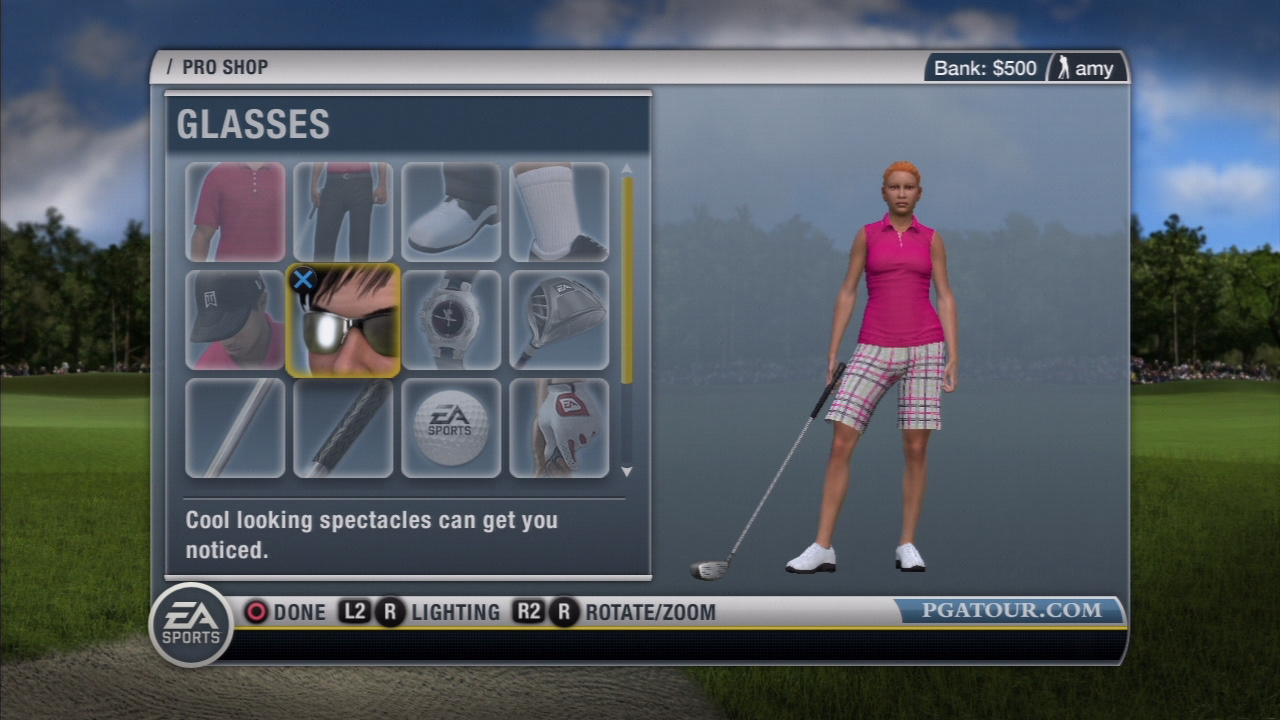 You know what they say, it takes a village to make a AAA video game.